! Title: ATSF Camera Car Author: James Czarnecki Creation Date: 15 March 2001 Last Revision Date: 27 March 2001 Revision History: Known Problems: None >

<! body BGCOLOR=#000000>

Atchison, Topeka & Santa Fe's Camera Car

Go back to

.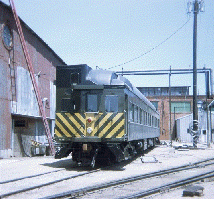 ---
Background
---
The Atchison, Topeka, and Santa Fe Camera Car started its life as Business Car #30, built by the Pullman Car Company in 1918 in lot #4530. It was assigned as the Director's Car on 18 February 1928. It then carried the designation of being "Unassigned" till 01 January 1966. It was converted to Film Car #30 in March 1969. It was then renumbereed Film Car #5009 in July 1970, and finally renumbered Film Car #73 in January 1973.

It was also one of the cars which never received the silver shadow stripe livery and rebuilt trucks.

Car #30 was the #2 car at Galveston for a number of years, till Galveston was shut down and the GC&SF was abolished. After the abolishment, Car #30 was sent to storage, where it sat till the lcomotive simulator car was approved. Car #30 was then modified with an enclosed rear platform, among other things, and used to film stretches of the actualy ATSF right of way all over the system for use in the locomotive simulator car.
---
Operation
---
The camera car was used to film parts of the ATSF to use for the Locomotive Simulator in Topeka, KS. The car was placed ahead of an engine with cameras roling so the film could be shown like a movie. The engineer in the Locomotive Simulator would watch the movie just like he was running down the track. The movie used high quality film as it might have to be stopped as the trains in the simulator came to a stop during training. All of the films used in the Locomotive Simulator was placed on laser disk by 1990.
---
Present Location
---
The Camera Car was retired after being damaged in a switching accident, and is now at what is left of the Kansas City Railroad Museum in Belton, MO.
---
About the Above Photo
---
The above photo was taken within the 1970-1971 time frame at the Topeka Shops by Michael Porter, and is his property. It is used here at QStation with his permission. Click the photo to show a larger image.
---
Contributors
---
QStation wishes to thank Ed Dabler who provided most of the background data for the Camera Car taken from the book entitled Business & Special Purpose Cars by Frank Ellington and Joe Shine. The rest of the background data was contributed by Buttguster. Keel Middleton provided the data about the Camera Car's operation. Jim McKeel provided the modern location of the car.

A special word of thanks goes to Evan Werkema for his original research question about the car, for without his query this page would not have been possible.
---

Copyright 2001 by QStation Media. All Rights Reserved.
---