Sunday - May 6, 2001 (Day 2 Part 1)
Sunday morning and the skies were clear in Sandpoint, ID. Now that's more like it! After loading the car I looked over towards the tracks and noticed an eastbound freight was going by. Headed for the MRL perhaps? I left after it quickly and was overjoyed to see that yes, it was! The chase was on. After getting out of Sandpoint and into Kootenai I caught up to the head end of what would turn out to be the H-PASFTW (Pasco-Ft Worth) with BNSF 4990/BNSF 6716/BN 7933 up front and 107 cars trailing. First shot was taken at 0713 (PT) at the Kootenai detector located at MP 111 . Then on to the east switch at Hope, ID and a nice shot crossing Bridge 96 (MP 96) There was intermittent fog from here on east which took me by surprise. I drove quite a ways ahead of the train trying to find a break in the fog.

It was around Noxon, MT where a bit of clearing showed. The eastbound was going to meet a westbound P-train here at Noxon so I set up at the overpass east of the siding to shoot the westbound which went by at 0910 (MT) with BN 7848/BNSF 6453. Then it was off eastward again to shoot at my next planned location, the semaphore located at MP 55.5 which I have not photographed yet. Arriving just west of Trout Creek, MT, I hurried as fast as I could on foot and as I had no idea of how far ahead of the eastbound I was I really wore myself out getting to the semaphore. Getting too old for this kind of workout! Turns out I had about a 15 min. wait but the shot was worth it.

After a slower walk back to the car I was after it again. Arrived at Thompson Falls as the train did. Next got a shot of the BNSF 4990 passing the semaphore at MP 23.5 (this one to be removed this year)About this time I heard the detector at Paradise go off and it said 22 axles. What in the world was this coming? The meet occured at Plains, MT and when I arrived there was surprised to see the MRL Gas Local with one boxcar and no tank cars waiting in the siding! After one more shot of the PASFTW coming into Paradise I headed west after the Gas Local. I had noticed there were tank cars at Thompson Falls for him to pick up so the train would go east with some cars at least. And I knew what shot I wanted.

I parked around MP 26 and walked up to the semaphore at MP 251, another one to be replaced. I passed a couple of fishermen along the way and exchanged pleasantries. Further up found a rather large beaver between the rails that had been hit by a train. First one I've seen up close. Not much to look at now. So arriving at the semaphore the lighting on it is just perfect! The local was already picking up the 20 empty tank cars now. How long could it take? After 45 min. of waiting I was beginning to worry. The sun was moving around on the semaphore to the back of it. After an hour the light was now off the front of the blade. 15 min. later I hear he is finally coming out. But the shot is now backlit so I walk around the curve to the semaphore at MP 254 and shoot the train there as the sun angle is better here. The blade at MP 251 will have to wait till another day. MRL 330/391/375 was the Gas Train power by the way and it passed at 1250.

Then it was back to the car and I headed east again hoping to find a westbound to shoot. I got lucky as the Gas Empties met a westbound coal train at Plains. So the next chase was on. First shot was at MP 14 at 1334. My next planned shot would be a lot further west. Remember that earlier mentioned semaphore at MP 55.5? It has a counterpart around the curve to the west at MP 55.6 and this was another blade I have not yet photographed. Also noteworthy is that this semaphore is the furthest west on the ex-NP main that you will find. All others west of here have been removed so shooting this one was important.

So thru Thompson Falls I went and into Trout Creek a short while later where I noticed an eastbound BNSF P-train was going by. I had missed the power so I had a decision to make. Chase after it or stay here for the coal train. I chose the coal and hoped I had not missed something good. The next installment tomorrow will tell what happened next.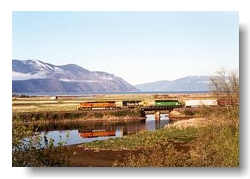 BNSF #4990 East at Bridge 96 just west of Clark Fork, ID on 5-6-01.
Click on photo to see full size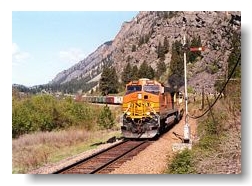 BNSF 4990 East at the semaphore located at MP 23.5 just west of Eddy, MT.
Click on photo to see full size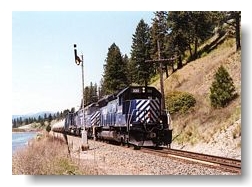 MRL #330 East at MP 254 on 5-6-01.
Click on photo to see full size
Sunday - May 6, 2001 (Day 2 Part 2)
After letting the eastbound P-train go I headed to the west end of Trout Creek and walked eastward to the semaphore at MP 556. The blade dropped as I walked towards it telling me the Coal train was about to leave Childs (the next siding east) after having met the P-train. Soon I heard it blowing for Trout Creek and in moments had a very nice shot of the coal train (C-BKMSPOB) with BNSF 8859/BN 9622/BN 9701. But the signal remained down and then I heard the P-train talking to another westbound at Childs. Better wait right here I decided. Of course when this train showed up a nearby cloud came over and ruined the shot. This westbound was another P-train with BNSF 5428/7935. Then I walked back to the car and as I stopped at a grocery store in Trout Creek for a coke heard the Woodlin detector east of Thompson Falls go off. That eastbound P-train was long gone.

Next I decided to drive east and scout out the semaphores east of St Regis and hopefully catch a westbound. Just east of Trout Creek the dispatcher came on to give that eastbound P-train a track warrent. I listened as he addressed it to the BNSF 546 East!!! That was an H2 painted B40-8W and I have yet to catch one leading a train, and here I had just missed one! Then came the wonderful words "not in effect until arrival of BNSF 7888 West at Paradise." I had a very slim chance and then the disp told him that the westbound was only at Spring Gulch and he would be waiting at Paradise for 20 minutes! Got him!! Pedal to the metal and off I go. Only 30 miles ahead of me! Flew (at the speed limit) thru Thompson Falls and Plains and arrived at Paradise to see the P-train still waiting in the siding and also to see the BNSF 7888 West rounding the curve into town. Caught that trains power:

H-LAUPAS BNSF 7888/BN 6704/BNSF 6329 Paradise @1613

A westbound is nice but I drove to Paradise for a reason. I set up at the east end of the bridge at Paradise and watched the P-train with BNSF 546/BNSF 8625 (B40-8W 8625 is still in ex-ATSF paint) start pulling out of the siding. Then I got my shot. After he went by I drove on ahead to MP 205 where I knew a semaphore remained on this stretch between Paradise and St Regis. The beauty of this line is that eastbounds are facing west here so you can shoot them in the afternoon coming into the sun. At St Regis the line turns eastward again. I beat him easily and got my shot at the MP 2051 semaphore. I then got my last shot of him at the east end of the siding at Spring Gulch, west of Superior and located along I-90.

Next I did some scouting to find out how to access the semaphore at MP 1905, another blade I have not shot and located just west of Spring Gulch along I-90 as well. This is one of only two ex-NP permissive blades left (painted yellow with a pointed end) the other located between Paradise and St Regis, but that one I've shot, not this one yet. Tomorrow for sure I decide. With the Paradise Local expected to come this way Monday morning to switch Cedars (east of here) I should have it bagged. Then it was back to Plains to check into my motel for the evening. The final installment shall come tomorrow.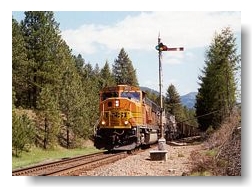 Westbound coal train at the MP 556 semaphore with BNSF #8859 on 5-6-01.
Click on photo to see full size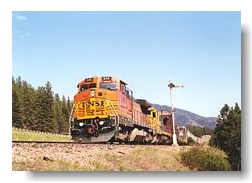 BNSF #546 East at the MP 2052 semaphore between Paradise and St Regis, MT 5-6-01.
Click on photo to see full size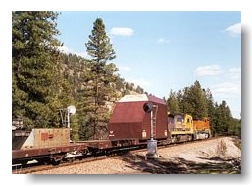 BNSF 546 East going away from the camera at the east switch of Spring Gulch, MT 5-6-01.
Click on photo to see full size
[Top of Page]