Sunday - May 20, 2001
Today dawned bright and sunny and I had a mission. Earlier in the week, friend Joseph Belote had informed me that UP 2334, a repainted SD60M with "Wings" was headed towards Seattle and would be here today. A check on the UP Trace showed it had already arrived at Argo yard early this morning. About 1315 I left the house in Renton, WA and started for Seattle. I arrived at Argo a short while later and found the UP 2334/UP 2942 (SD60M/SD40T-2) sitting out in the open on the wye pocket. Good sun angle too. UP 4325/9766/4551/4345 was also in the yard at the north end of Argo (SD70M/C44-9W/2 SD70M's).

On the scanner I heard the BNSF M-INBPAS arriving at Argo on the BNSF side so I headed over there and found it ready to head south with BN 7940/BNSF 6918/BN 7066/BNSF 6392/7900/3614/BN 6126. That's 5 SD40-2's/SW10/SD9! It was the BN 6126 that caught my eye though. This former GN SD9 was one of only 2 ex-GN SD9's with dynamic brakes. The other, BNSF 6125 was already painted H1 but this one was not yet "BNSF'd" so I considered it a good catch. The train left at 1445 with 91 cars trailing. After that, UP 669 came out to switch the yard south of Argo and at 1554 the northbound Talgo #752 was seen at So. Seattle with AMT 466 up front and 90230 on the rear. Things slowed down then so it was time to head for home but glad I caught that UP SD60M. First one of those I've seen painted this way.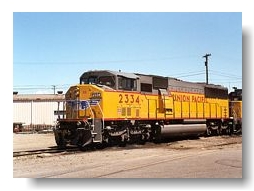 UP #2334 at Argo, WA on 05-20-2001.
Click on photo to see full size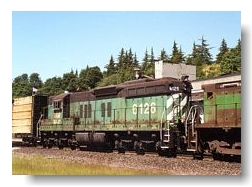 BN #6126 (SD9) at Argo, WA on the southbound M-INBPAS on 5-20-2001.
Click on photo to see full size
[Top of Page]