Sunday - May 27, 2001
This morning at La Grande with Drew, Bret and Brian planning to head up to Spokane, Robert and I set out by ourselves to shoot more UP in the Blues. Cloudy skies to the east and west but there seemed to be a lot of trains west of La Grande so we headed that way. Three westbounds were tied up between here and Perry, OR. Threading it's way thru them was a w/b APL stack train with 4309/4070/6171 leading so we followed it west. Past Hilgard at 0731 it looked like a big area of clearing just off to the west. So a chance of sunshine was there! But not for this train. At Kamela an e/b APL stacker was met and this one was worth chasing east with UP 9180/SP 8534/UP 4359/SP 9817 up front. It left Kamela at 0758. Many shots almost had sunshine but it was always just moments away from coming out.

At Perry the e/b met another westbound. This train had all K-Line containers and looked great, especially with UP 4059/UP 3690/SP 7413 leading. Great to see an old SP SD45R still running! We caught it just out of Perry at 0835 and followed it all the way to Meacham and the sun finally did come out. The next train was an oddity with CNW 8635 running solo with an e/b high-wide special. It passed Meacham at 1037.

These were the next 3 trains we saw:

1) EB Stacks 4312/4238/9309/9358 Meacham @ 1145
2) WB GM 9330/9303/5754 (DPU 9302/9306) Nordeen @ 1221
3) WB GM 6350/SP 8503/2300/9141 Nordeen @ 1235

Then it was back to La Grande for lunch with plans to start for home shortly after. But we had another train to follow west as it would turn out. Another stack train with CNW 8543/CSX 8334/NS 6696 leading left La Grande about 1330 with us in hot pursuit! However, as what normally happens with great trains thunderstorms rolled in just west of town. That was it for the sun for the rest of the trip. Best looking train of the weekend and now it's raining! We followed it west to Kamela and from there left for home.

We decided to take the back way from Pendleton to Echo and saw a couple of w/b's along the way. One we'd see earlier (UP 6350) but the other was one we'd missed and had the 4164/9237/9351/9362. It was past Nolan, OR at 1613. Of course it was still cloudy. No other trains were seen and we crossed Snoqualmie Pass before the rush of traffic that would come tomorrow night at the end of the holiday so I'd say all things considered, it was a pretty good trip as we did see some nice trains and had quite a bit of sunshine before the storms rolled in Sunday afternoon.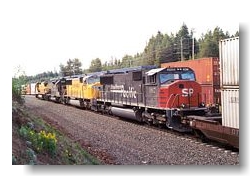 SP/UP Power on SEAP at Kamela, OR 5-27-2001.
Click on photo to see full size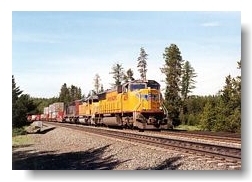 UP #4059 East (IG2PD) at Meacham, OR 5-27-2001.
Click on photo to see full size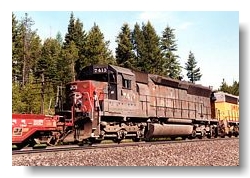 SP #7413 (SD45R) at Meacham, OR 5-27-2001.
Click on photo to see full size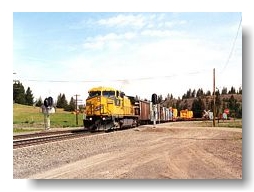 CNW #8635 East (High-Wide Special) at Meacham, OR 5-27-2001.
Click on photo to see full size
[Top of Page]