Saturday - June 16, 2001
Sunny this morning but clouds are on the increase as I leave the Dilworth motel. Not much happening here so I head east and catch up to an eastbound with an EMD SD60 leading. Nice looking GM train so I chase it all the way to Sartell for a "good" sunny shot of it. We are talking 172 miles here! Along the way a number of westbounds are met. I'm staying in Little Falls again so I'll have to backtrack to get back there from Sartell but it was worth it. A few more trains are seen west of Little Falls under clearing skies before turning in for the night. These are todays trains:

1)  EB GM      EMD 9003/BNSF 6957/6342      Park Lake, MN @ 0918
2)  WB GM      BNSF 119/3170/7145           Lincoln, MN  @ 1252
3)  WB Z       BN 7911/ATSF 850/339         Gregory, MN  @ 1356
4)  WB Z       BNSF 4320/4792/703           Gregory, MN   @ 1407
5)  EB GM      BNSF 4393/ATSF 893/BNSF 762  Rice, MN  @ 1644
6)  WB Stacks  BNSF 6838/BN 7500/BNSF 7218  Rice, MN  @ 1750
7)  WB E       BNSF 8895/9780/8904/9802     Randall, MN  @ 1852
8)  EB GM      BNSF 1037/4583/4453          Randall, MN  @ 1900
 
Nice to see that BN SD40-2B (7500) as well as the GP60M leading.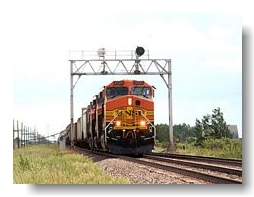 BNSF #4320 West at Gregory, MN on 6-16-2001.
Click on photo to see full size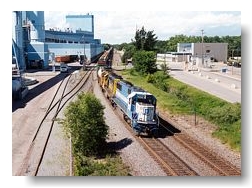 EMD #9003 East at Sartell, MN on 6-16-2001.
Click on photo to see full size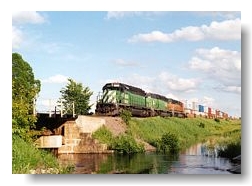 BNSF #6838 West (Br 116) at Randall, MN on 6-16-2001.
Click on photo to see full size
Sunday June 17, 2001
This is my last day on the ex-NP main west of Northtown. Tonight I will be in Minneapolis. Morning at Little Falls brings overcast skies so I slept in again. A little rain started as I headed east out of town about 0930. At Gregory (where the double track begins) my wait for a train is not long. An eastbound is coming so I set up and shoot the BNSF Warbonnet 750 coming under the signal bridge as the sun breaks out. How often does that happen! So I chase this guy eastward to Big Lake where I wait for more action. Only a few more trains pass and it soon clouds up again so I head on into Minneapolis later in the afternoon to find my motel. A very quiet day!

1)  EB V     BNSF 750/ATSF 829    Gregory, MN  @ 0955
2)  WB Z     BNSF 4409/751/4605   Big Lake, MN  (MP 44)  @ 1115
3)  EB  GM   BNSF 4910/7887/1061  Clear Lake, MN  @ 1230
4)  WB Z     BNSF 775/1117        Big Lake, MN  @ 1358
 
Except for one SD40-2, all big GE's. And no coal trains either.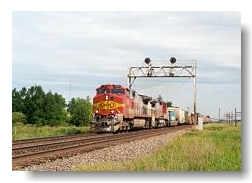 BNSF #750 East at Gregory, MN on 6-17-2001.
Click on photo to see full size
Monday June 18, 2001
As it rained most of the night and was still lightly coming down in the morning, I slept in again. Coming out of the motel around 10am I realized it was in the 70's already (HUMID yes!) The sun would break out around noon and get out to about 85 today. Talk about sticky weather! First thing I did was check out a local hobby shop. Then it was off to find the Minnesota Commercial. While searching I caught a BNSF grain train with ATSF 853/BNSF 6362 leading at Union Jct at 12noon. A bit later I found the MC but not much was happening when I arrived. There were plenty of Alcos and GE's but most of them were dead. Did get some nice pics though.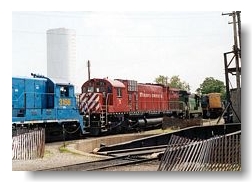 Minnesota Commercial #71 at St Paul, MN on 6-18-2001.
Click on photo to see full size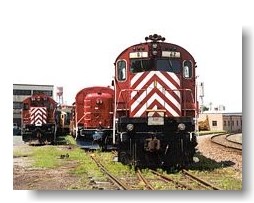 Minnesota Commercial Power at St Paul, MN on 6-18-2001.
Click on photo to see full size
With 4 hours before I need to be at the airport for my flight home, I decided to head over to Northtown and see what was happening there. 14 units in storage at the east end including at GP30 rebuild (BNSF 2757) and BN GP7u's 1402 and 1413. H1 SD40 6367 was also there. These are the trains I saw here this afternoon:

1)  WB Local     BN 2976/BNSF 2413        Arr Northtown @ 1518
2)  EB Transfer  SOO 6001/CP 5749         Lv Northtown @ 1540
3)  WB GM        UP 9125/UP 8993/SP 9816  Lv Northtown @ 1555
 
Also shot BN 6110 (SD9) switching the east end of the yard as was BNSF 3448. Around 4:30pm I decided it was time to leave for the airport. Good thing I did as traffic was on the heavy side. Made my 6:50pm flight and was soon on my way home. A very interesting trip with a lot of new territory covered. I enjoyed the area around Fargo a lot and will have to make another trip that way in the future sometime. It was a good trip and a long one to be sure, but I'm glad I went.

[Top of Page]