Sunday - October 27, 2002 (Day 2)
What a difference a day makes. Nothing but overcast skies this morning after all that sunshine yesterday. We decide to get up early anyway and head to the west end of Sandpoint to Algoma. About 8:34 a.m., the first train shows up, an eastbound M-PASNTW with 2 H2 C44-9W's. About 9 a.m. Ted has arrived and I ride with him this time. With Drew and BrianB following we head back to Sandpoint where a southbound UP freight with the CEFX #119 leading is getting a track warrant to head south. It arrives close to the same time that we do so it's a quick shot and over to Boyer siding as we hear it is going to wait for a BNSF eastbound which turns out to be a Z-PTLCHC and has another TFM unit trailing (2609). After it's gone the UP freight continues towards us and we get some shots of it passing the former GN Sandpoint depot.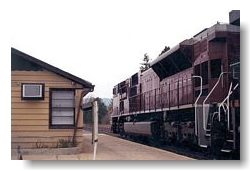 CEFX #119 South (GSETTA) at Sandpoint, ID on 10-27-2002
Click on to see full size
Then we follow the ex-GN/UP line to Dover where we set up for a shot showing some nice fall color in the background.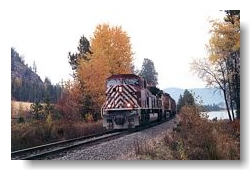 CEFX #119 South (GSETTA) at Dover, ID on 10-27-2002
Click on to see full size
After our shots there we are back to Sandpoint and headed south. We catch up to a westbound BNSF at Algoma and quickly get ahead of it. Drew and BrianB pull off at the east end of Cocolalla while Ted and I head a bit further south for a shot around MP 19 (roughly 19 miles south of Sandpoint). Then we realize we have lost Drew and BrianB but figure they'll turn up eventually. Ted and I head on down towards Rathdrum. As it's cloudy and the trains have seemed to have taken a break we are going to explore on his home turf. He shows me some new area between Rathdrum and Ramsey I'd been wanting to check out and get a bonus as an eastbound empty grain train shows up behind two H1 SD40-2's about 12:11 p.m.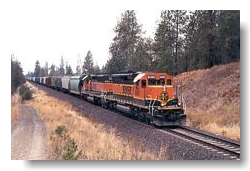 BNSF #8080 East (X-PASWIL) at Rathdrum, ID on 10-27-2002
Click on to see full size
Then we head to Ted's place and contact Drew on his cell phone and shortly he and BrianB have arrived. About 1 p.m. we decide it is time to start heading back to Seattle. As we leave Rathdrum and Ted behind an eastbound grain empties is coming so we decide to wait to get a shot of it at Rathdrum. We then get as far as East Hauser before we hear of a westbound and two easbounds approaching so we stop there and get shots first of an e/b stack train with 2 H2 C44-9W's and a BN SD40-2. The 2 GE's are in different shades of orange and look quite odd together.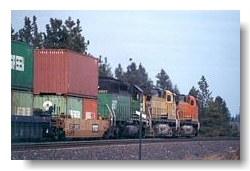 BNSF #4759 East (S-TACBPA) at Hauser, ID on 10-27-2002
Click on to see full size
Then the 2nd eastbound, a V-SSEKCM goes by as the westbound approaches with BNSF #5254 leading a U-GRWLJV. We follow the westbound on into Spokane and we are soon on our way home. Kind of a fast paced trip as it was done in two days but Saturday was great for photography while Sunday was wisely spent scouting out new locations for future trips. Thanks to Drew for the use of his car and to Ted for showing me new spots in the Rathdrum area plus seeing to it that I finally got a photo of a train going under the US 95 bridge at Algoma. As it is to be replaced in the near future I may have been disappointed if I'd put off photographing it much longer.
These are the trains photographed today:

    01) EB BNSF M-PASNTW 4525/4511                  Algoma, ID @ 0834 (380 axles)
    02) SB UP   GSETTA   CEFX 119/UP 6443           Sandpoint, ID @ 1000
    03) EB BNSF Z-PTLCHC 4682/4593/2892/TFM 2609    Boyer, ID @ 1018
    04) WB BNSF M-NTWPAS 4770/FURX 7280/6743/4193   Cocolalla, ID @ 1100 (428 axles)
    05) EB BNSF X-PASWIL 8080/8050                  Rathdrum, ID @ 1211 (440 axles)
    06) EB BNSF X-TACBYL 4961/1007/ATSF 872/BN 8062 Rathdrum, ID #1348 (424 axles)
    07) EB BNSF S-TACBPA 4759/4484/BN 6927          Hauser, ID @ 1357
    08) EB BNSF V-SSEKCM 7840/4317                  Hauser, ID @ 1425
    09) WB BNSF U-GRWLVJ 5254/ATSF 939              Hauser, ID @ 1429
 
[Top of Page]