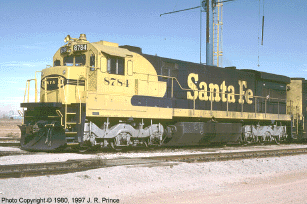 Click on the photo for its full size
W elcome to the Santa Fe U36C Locomotive Web Site.

QStation, in conjunction with famed Santa Fe modeler
Gregg Fuhriman, is pleased to present an informational site on this General Electric locomotive.

A complete roster of Santa Fe's U36C locomotives is located in the history section.

The locomotive had a long career with the Santa Fe, and was the only General Electric model which had a successful rebuilding by a major railroad, which was the Atchison, Topeka and Santa Fe.

New photos by Ed Cooper, have been posted in the prototype section.

Enjoy your visit.