BNSF Dash-9 Unit #1005
---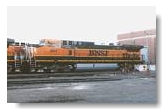 Click for full size

BNSF #1005 sits patiently waiting for the Diesel Shop crew to begin work. Photo courtesy of Ron Gebhardt.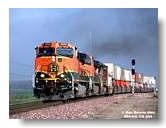 Click for full size

On a 2001 March morning, BNSF Dash 9 #1005 is on the point of an eastbound stack train as it leaves the Shirley, CA siding in Central California. Photo courtesy of Don Bowen.

Copyright 2004 by QStation Media Inc. All Rights Reserved.

---