BNSF Dash-9 Unit #1009
---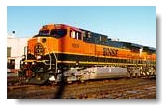 Click for full size

BNSF Dash 9 #1009 waiting for the next assignment. Photo courtesy of Brad Perkins.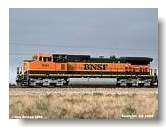 Click for full size

In December 1999 BNSF 1009 is on the point of an eastbound manifest train, dead in the Sandrini Siding in the Southern San Joaquin Valley of Central California. Photo courtesy of Don Bowen.

Copyright 2004 by QStation Media Inc. All Rights Reserved.

---