BNSF Dash-9 Unit #1042
---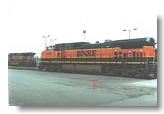 Click for full size

Backing down to the engine service area, BNSF #1042 coasts to a halt. Photo courtesy of Ron Gebhardt.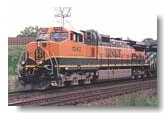 Click for full size

Westbound autorack train at Park Junction, St.Paul, MN, Spring 2000. The leading unit was #1042, followed by 7052 (SD40-2). Photo courtesy of Maik Pertermann.

Copyright 2004 by QStation Media Inc. All Rights Reserved.

---