BNSF Dash-9 Unit #1063
---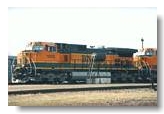 Click for full size

This photo was taken on April 12, 1997 during the Mississippi River flooding. The trailing locomotive is Dash-9 #1020 and the train consist was a string of autoracks that was 3 miles in length. Photo courtesy of Matt Carlson.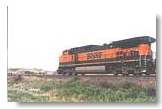 Click for full size

Accelerating out of Havre, MT, BNSF #1063 leads her consist west to Whitefish, MT. Photo courtesy of Ron Gebhardt.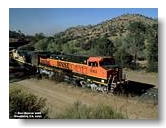 Click for full size

On a spectacular fall afternoon in October 2001, BNSF Dash 9-44CW #1063 is on the point of a EB manifest train at Woodford, CA. Photo courtesy of Don Bowen.

Copyright 2004 by QStation Media Inc. All Rights Reserved.

---