BNSF Dash-9 Unit #1064
---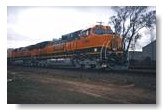 Click for full size

BNSF #1064 and a mate rush a priority pig train under cloudy Wisconsin skies. Photo courtesy of Matt Carlson.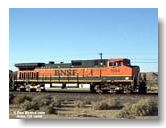 Click for full size

On a gray May 9, 2000 BNSF #1030 drifts downgrade near Caliente, CA #1030 along with a SD40-2 are serving as a helper set. Photo courtesy of Don Bowen.

Copyright 2004 by QStation Media Inc. All Rights Reserved.

---