BNSF Dash-9 Unit #1073
---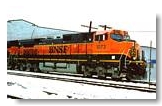 Click for full size

BNSF #1073 and mate await their next assignment in busy Seattle, WA. Photo courtesy of Brad Perkins.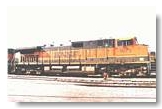 Click for full size

Enjoying some idle time, #1073 sits in the early monring sunshine at the Havre Locomotive Servicing area on June 1, 1997. Photo courtesy of Ron Gebhardt.

Copyright 2004 by QStation Media Inc. All Rights Reserved.

---