BNSF Dash-9 Unit #1075
---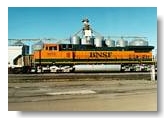 Click for full size

BNSF #1075 in the Havre Yard in the early afternoon of February 8, 1997. Photo courtesy of Ron Gebhardt.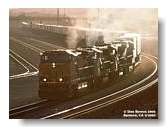 Click for full size

On May 9, 2000, near sunset, BNSF #1075 is on the point of an EB pig train as it accelerates out of the old ATSF yard at Barstow, CA. Photo courtesy of Don Bowen.

Copyright 2004 by QStation Media Inc. All Rights Reserved.

---