BNSF Dash-9 Unit #1078
---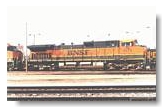 Click for full size

With no imminent departure in sight, #1078 awaits her service call at the Havre Locomotive Servicing Area on June 1, 1997. Photo courtesy of Ron Gebhardt.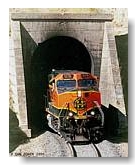 Click for full size

BNSF #1078 pokes her head out of Tunnel #2 as she makes her way through Tehachapi Pass in California in July 1998. Photo courtesy of Don Bowen.

Copyright 2004 by QStation Media Inc. All Rights Reserved.

---