BNSF Dash-9 Unit #1082
---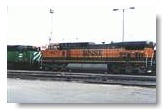 Click for full size

BNSF #1082 finds herself asigned to helper duty on a westbound grain train on April 28, 1997. Photo courtesy of Ron Gebhardt.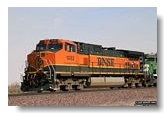 Click for full size

BNSF 1082 waits for a green board at Daggett, CA on 10/23/03. Daggett is a few miles east of Barstow on the BNSF Needles Sub. California. Photo courtesy of Don Bowen.

Copyright 2004 by QStation Media Inc. All Rights Reserved.

---