BNSF Dash-9 Unit #1089
---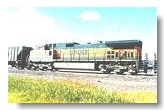 Click for full size

BNSF #1089 assists BNSF #972 with a grain train, 5 miles east of Chinook, MT. Photo courtesy of Ron Gebhardt.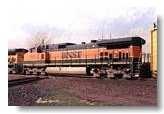 Click for full size

Westbound autorack train at Park Junction, St.Paul, MN, Spring 2000. The leading unit was 4447, followed by the #1089. Photo courtesy of Maik Pertermann.

Copyright 2004 by QStation Media Inc. All Rights Reserved.

---