BNSF Dash-9 Unit #1095
---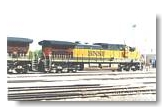 Click for full size

Having received her call, BNSF #1095 idles in the havre Locomotive Service Area awaiting the set up crew. Photo courtesy of Ron Gebhardt.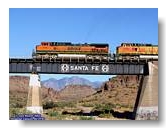 Click for full size

In early July 2003, BNSF 1095 leads an eastbound freight through Kingman Canyon, AZ over one of the beautiful ATSF bridges. Photo courtesy of Don Bowen.

Copyright 2004 by QStation Media Inc. All Rights Reserved.

---