BNSF Dash-9 Unit #1112
---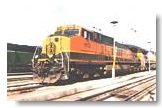 Click for full size

Early morning sunlight glinting off her nose, BNSF #1112 sits at the Havre Locomotive Servicing are awaiting her orders for the day. Photo take on on June 1, 1997. Photo courtesy of Ron Gebhardt.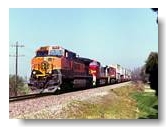 Click for full size

BNSF #1112 rockets east at the Kings Country Club during November 1998. Photo courtesy of Don Bowen.

Copyright 2004 by QStation Media Inc. All Rights Reserved.

---