BNSF Dash-9 Unit #978
---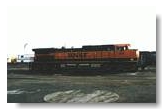 Click for full size

At 6:30 a.m., this unit was just beginning to idle away the day in front of the Havre, MT diesel shop on March 23, 1997. Photo courtesy Ron Gebhardt.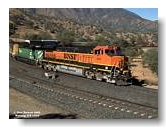 Click for full size

In October 2001, BNSF Dash 9-44CW #978 is on the point of an EB mixed freight at Walong, CA (The Loop). Photo courtesy of Don Bowen.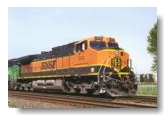 Click for full size

BNSF #978 heads a stack train southbound at Auburn, WA on 18 April 2000. Photo courtesy of Brian Ambrose.

Copyright &copy 2005 by QStation Media Inc. All Rights Reserved.

---