BNSF Dash-9 Unit #979
---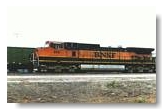 Click for full size

Destined to be the lead unit of a westbound container train, BNSF #979 and BNSF #977 edge gently toward their load. Photo courtesy of Ron Gebhardt.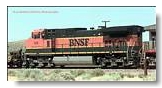 Click for full size

Here BNSF #979 adds her muscle to a stack train racing across the flats of California's deserts. Photo courtesy of Lara Hartley.

Copyright 2004 by QStation Media Inc. All Rights Reserved.

---