BNSF Dash-9 Unit #988
---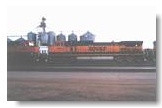 Click for full size

It's very early in the morning as BNSF #988 adds her power to the eastbound grain train in the Havre Yard on June 7, 1997. Photo courtesy of Ron Gebhardt.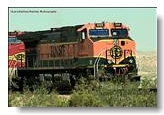 Click for full size

Glad to get some warm sunshine instead of the northern cold she is used to, BNSF #988 thunders her way across the desert terrain. Photo courtesy of Lara Hartley.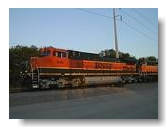 Click for full size

BNSF #988 and two freshly painted SD40-2s pull a long train of hoppers into Casey Yard in NW Houston on August 27, 2000. Photo courtesy of Bob King.

Copyright 2004 by QStation Media Inc. All Rights Reserved.

---