BNSF Dash-9 Unit #989
---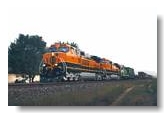 Click for full size

BNSF #989 and a sister unit, as well as an older BN sibling, tote their general merchandise train in Wisconsin. Photo courtesy of Matt Carlson.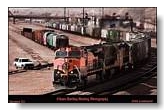 Click for full size

BNSF #989 is in charge of this train as she heads out of the BNSF yard at Barstow, California. Photo courtesy of Lara Hartley.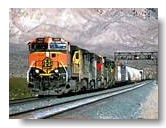 Click for full size

On October 21, 1999 BNSF Dash 9-44CW #989 is on the point of a mixed freight as it drops down into Mojave, CA. This train has 7 units and 6 ATSF/BN/BNSF paint schemes; from the front H1, SPSF "Kodachrome", BN Cascade green, Warbonnet, H2, BN green, and ATSF Yellow bonnet. Photo by Don Bowen.

Copyright 2004 by QStation Media Inc. All Rights Reserved.

---