BNSF Dash-9 Unit #995
---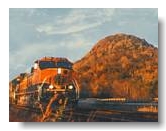 Click for full size

BNSF #995 speeds its train to its destination as the sun begins to set in Wisconsin. Photo courtesy of Matt Carlson.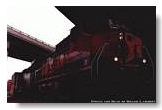 Click for full size

Here is an interesting photo of BNSF #995 taken under the Highway 53 bridge at the north end of the North La Crosse Yards. The photo was taken on June 24th, 1997, the same day the MILW 261 steam engine stopped in La Crosse. Photo courtesy of Shane Lambert.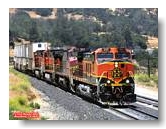 Click for full size

In June 2003, BNSF Dash 9-44CW #995 leads an eastbound stack train through Woodford, CA. Photo by Don Bowen.

Copyright 2004 by QStation Media Inc. All Rights Reserved.

---