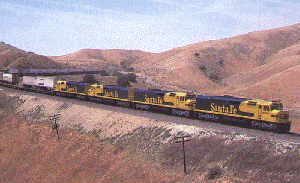 Click on the photo for its full size
W elcome to the Santa Fe SDF40-2 Locomotive Web Site.

QStation, in conjunction with famed Santa Fe modeler
Gregg Fuhriman, is pleased to present an informational site on this unique cowl locomotive. The locomotive was originally bought by Amtrak, was transformed by Santa Fe, and continues to pull freight across the nation while in the service of the Burlington Northern Santa Fe Railway.

For more information on this unique locomotive, please see Evan Werkema's Santa Fe SDF40-2 web site.

What's New: A new photo has been added to the Prototype Gallery by Brian Clough.

Enjoy your visit.